Lexia Slush Side Event – 30th November 2023
07.11.2023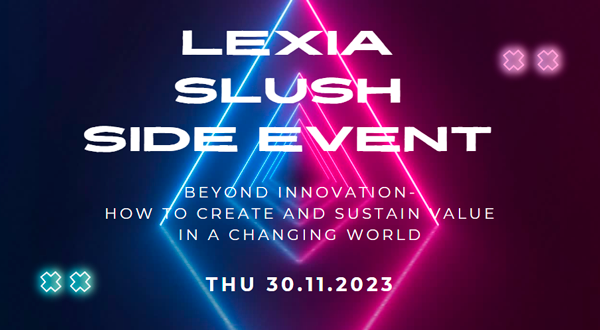 It's the most wonderful time of the year! We warmly welcome You to our Slush Side Event – Beyond Innovation: How to Create and Sustain Value in a Changing World
Join us for a special side event on Thursday 30th November starting at 6pm at our Helsinki office Lönnrotinkatu 11. This is an event you won't want to miss!
We have once again planned an interesting and informative evening of networking, good food & drinks among amazing speakers, so that you can get new perspective and be inspired!
We will start the evening with Jussi Muurikainen, who will give us the opportunity to hear about the Ukrainian startup ecosystem. Jussi has been supporting Ukrainians since the war started. He organized and participated in a trip to Lviv, Ukraine, where he attended the IT Arena 2023 event and also arranged a side event "The Bridge of Trust". He will share his insights and experiences about the tech conference held in Lviv, and also about "The Bridge of Trust" event held in Lexia, Helsinki.
You will hear great growth stories such as the world's first sustainable fashion marketplace IVALO.COM that connects ethical designers and conscious consumers.
You will learn from a Finnish accelerator for new businesses, Novus Victoria, about ideas to implementation and early stage financing at the Finnish ecosystem.
Elmery, a game-changing solution for metal recovery in refineries, will lead us to solving critical metal dilemma for green transition.
And we will end the pitching section with Fepod, which enables healthcare professionals to measure the real blood concentration of pain medicine with using only a small sample of blood. Drop of blood – precise result. You don't wan't to miss this!
In addition to networking – free legal tips, food and drinks are available from 18.00 – 21.00.
Please notice, that our event is free, but space is limited so register quickly to ensure your place!
Register here: Slush Side Event 2023