Lexia's competence was again praised in the rankings of the Legal 500
April 21, 2021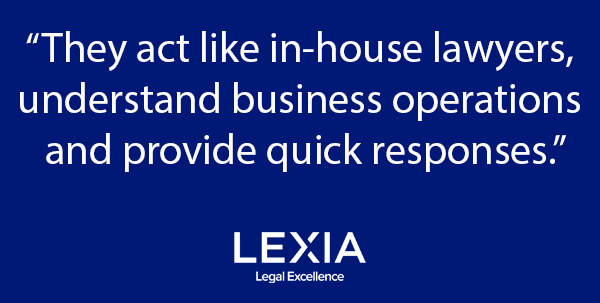 Legal 500, a research institute ranking international legal firms, has published its comprehensive EMEA edition. As in previous years, we received several recommendations.
Behind the visible successes of our practices is always a team of talented experts. That is why these kinds of thanks and successes belong to all Lexia's personnel. In addition, we want to thank our clients who helped us achieve these rankings.
The Legal 500 recommends our following practices:
M&A
"I see that the key strength of Lexia team is that they have had the same team handling the matters of the company from start-up work through to venture financing rounds all the way to M&A."
Dispute resolution, crime & corporate responsibilities
"Very easy to approach. Exceptional legal argumentation skills."
Employment and labour law
"Very easy to approach. Down-to-earth grip on cases. Very comparable billing and still very good quality. Exceptional legal argumentation skills both in written and oral."
IPR
"Individuals are easy to work with, well-spoken and both the team and individuals are agile. The team is diverse: partners execute more big picture strategic work while the other part of the team is more operational. Good customer service and experience."
Construction and environment
"They act like in-house lawyers, understand business operations and provide quick responses."
ICT and Technology
"They help us understand the legal issues we need to take into account and give us actionable advice. They actually help us solve the issues we present."
Partner and head of practice Markus Myhrberg received a Leading Individual citation for TMT (Technology, Media and Telecom).
Each year, the Legal 500 lists law firms in different countries and their areas of expertise. Researchers interview attorneys and their clients as they determine the competence and customer satisfaction of the firms.
More information on the Legal 500 website >>