Lexia advised Bonusway in the acquisition of the Dutch Ippies
January 19, 2021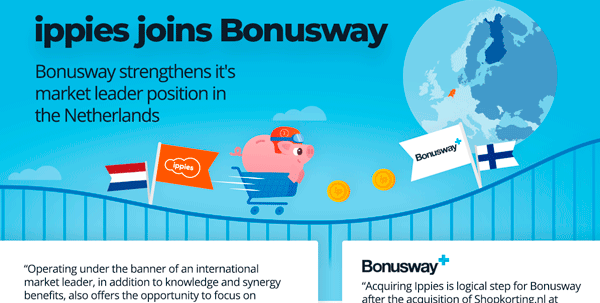 Bonusway, a leading European online rewards program operating actively in 17 countries, has completed its second acquisition in the Netherlands by acquiring Ippies, a points-based Dutch online rewards platform.
Founded in 2007, Ippies has gained a loyal user base in the Netherlands and Belgium. Ippies continues to operate under its own name and characteristic features now as part of a larger ambitious group.
The Bonusway online rewards program already works in 17 different countries.
"After acquiring Shopkorting.nl at the end of 2019, the Ippies acquisition is a logical step for Bonusway to strengthen its market leadership in the Netherlands," comments Lasse Järvinen, Co-Founder and Chairman of the Board at Bonusway.
The legal advisor concerning the deal was counsel Olli Kotila.