Kimmo Suominen appointed as Counsel – the role of law is also growing in sports and entertainment
November 17, 2021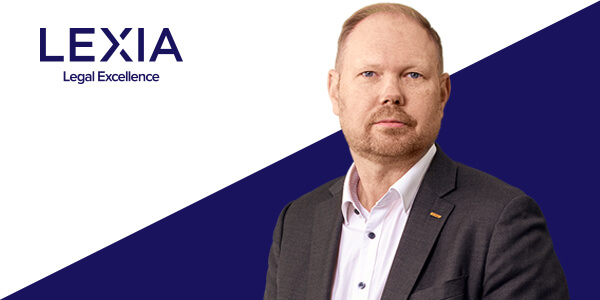 Kimmo Suominen, an expert in intellectual property law, M&A, dispute resolution and sports and entertainment law joins the firm and is a strong addition to Lexia's Startup team as well. 
During his long career in law Kimmo has specialised in intellectual property, M&A, as well as marketing and sports law. He has also represented clients in numerous litigation and arbitration proceedings.
At Lexia, Kimmo will focus on intellectual property law, M&A and also on counselling clients in the sports and entertainment industries. Lexia has a number of clients in these industries, including artists, event organisers and production companies as well as top athletes and sports organisations, which it helps to, for example, navigate the complexities of production and sponsorship contracts. Lexia's ever-expanding and increasingly international client pool also includes eSports and gaming companies.
"Sport today is a business and part of the entertainment industry. The law plays a growing role in the industry as associations, clubs and organisations become more and more professional. Sport also has to be legally sustainable in all respects, including in terms of contracts, decision making, rules and disciplinary procedures. This benefits not only the athletes and but actually everyone else involved in the industry", Kimmo says.
Kimmo's strengths as a legal professional are his broad vision and experience. His studies in business school and his experience of the world of business gives him a business-orientated approach. Kimmo always puts his clients and his clients' best interests first.
"Kimmo brings a boost to Lexia's IP and TMT practices as well as a new understanding of the gaming sector. The media and content industry has been expanding rapidly in recent years, and significant growth is expected in the more traditional sports and events sector as the coronavirus pandemic loosens its grip. Kimmo also has extensive experience of the legal challenges and opportunities of startups", explains Partner Markus Myhrberg.
In addition to his law degree, Kimmo has a master's degree in economics and an international LLM (Master of Laws) degree in intellectual property law.
Kimmo also holds myriad positions of trust: he sits on the boards of several growth companies as well as, for example, the Porin Ässät ice hockey club and 4H Finland. Kimmo is a member of the Sports Arbitration Board, the Disciplinarian of the Finnish Baseball Association, the Chairman of the Disciplinary Committee of the Finnish Gymnastics Federation and the Chairman of the Disciplinary Committee of the Finnish Bandy Association.
Additional information:
Markus Myhrberg, partner, puh. +358 40 505 5343, [email protected]