Our expertise was once again praised – Lexia practices and experts received several recommendations by The Legal 500
April 17, 2020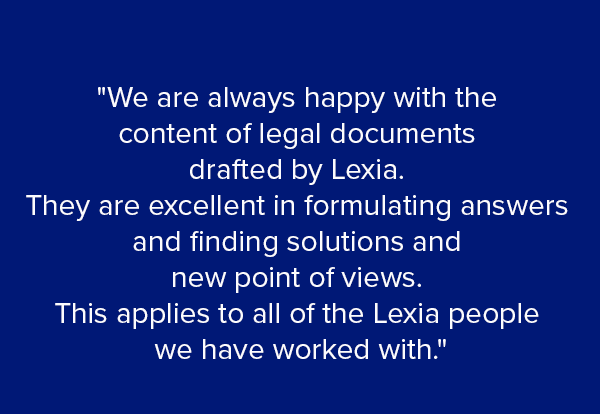 The Legal 500, a research body ranking international legal firms, has published its Legal 500 Europe, Middle East and Africa (EMEA) edition. Once again, we received several recommendations.
Behind the visible successes of our practices is always a team of talented experts. That is why these kinds of thanks and successes belong to all Lexia's personnel. In addition, we want to thank our clients who helped us achieve these rankings.
 The Legal 500 recommends our following practices:
Banking and finance
"Experienced team with wide knowledge and willingness to understand customers' business goals."
M&A
"The team is active in transactional work and recently acted on a number of deals in the technology and healthcare industries, where it primarily acts for businesses and investment funds on the sell-side of matters."
Dispute resolution
"Talented and committed lawyers."
Employment and labour law
"Team is compact and all members are capable lawyers. Team has good understanding all around labour law in Finland. Excellent in litigation."
IPR
"Led by experienced IP lawyer Markus Myhrberg, Lexia Attorneys Ltd advises clients on the full spectrum of IP matters including licensing agreements, strategy work and IP protection issues; the team also represents clients in copyright and trade mark disputes. Notable international clients include Sony and Aito Media."
Real estate and construction
"Flexible, innovative, pays great attention to customer needs."
TMT
"We've mainly worked with Lexia's partner Susanna Sariola. She has in-depth experience e.g. with complex tech contracts and her previous in-house background has turned out to be very helpful in many cases. She is a skilful negotiator and provides timely responses – it is always a pleasure to work with her."
Partner and practice head Markus Myhrberg were listed in the Leading Individuals list for his expertise in the TMT (technology, media and Telecom) sector.
The following lawyers received also personal recommendations:
• Finance and insurance law: Olli Kiuru
• Corporate and financial arrangements: Mikko Räsänen and Samuli Koskela
• Dispute resolution: Kenneth Svartström
• Employment and labour law: Tomi Korpiola
• IPR: Markus Myhrberg
• Construction and environment: Arto Kaikkonen and Samuli Koskela
• TMT: Markus Myhrberg and Susanna Sariola
The Legal 500 annually lists law firms operating in different countries and their areas of expertise. Researchers interview lawyers and their clients in an effort to rank the expertise of the law firms and the satisfaction of their clients.
Additional information is available on The Legal 500 website >>