Future Female and Lexia Attorneys presents: The Future of the Built Environment on 28 March 2019
15.03.2019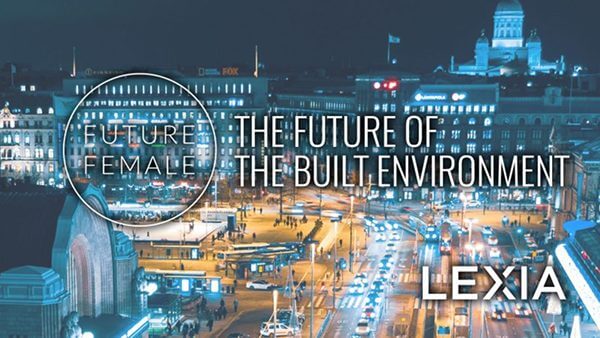 28 March, 2019 at 17.00-21.00
Lexia's office, Lönnrotinkatu 11, Helsinki
Built environment is changing faster than ever. Buildings are collecting data, you have an electronic key, there are self-driving buses and you can book a laundry time with an app. But what really is digitalisation in built environment? How is it affecting to our cities and our life?
Future Female and Lexia Attorneys are teaming up and inviting you to hear about the Future of the Built Environment. During the evening Tieto, Mapple and Forum Virium will share their interesting case stories and views about the future. Come and join us!
Agenda:
17.00-17.30 Registrations
17.30-18.00 Opening words from Future Female & Lexia
18.00-18.30 Case: Empathic Building – Reetta Ruusunen, Tieto
18.30-19.00 Case: Mapple – Karolina Mosiadz, Mapple
19.00:19.30 Digital Built Environment – Timo Ruohomäki, Forum Virium
19.30-19.35 Closing words
19.35-20.30 Finger food & drinks and networking
20:30 End of meetup
The event is already full but you can add yourself to the waiting list here >>
Reetta Ruusunen is the Head of Ecosystem and Partnerships in an internal start-up, Tieto Empathic Building. She is currently building a network of Sales, Delivery and IoT Technology partners in order to scale the business to the global market.
Karolina Mosiadz is a co-founder and COO at Mapple. She spent last six years hacking growth at IoT, science and deep tech startups. Before joining Mapple she helped Telefónica launch their B2C IoT platform. Considers herself a citizen of the world.
Timo Ruohomäki with 10+ years of experience on enterprise software systems for media companies and 10+ years on building automation and networking systems, Timo holds a unique combination of digital and analog experience to build the platforms and services. Currently he works as a project manager at Forum Virium Helsinki, an innovation unit of the City of Helsinki. His work mostly focuses on the concept of urban platform, a data platform to support a smart city with live and temporal data for visualisations, analysis and simulations.
Future Female is a network of likeminded women, who are inspired by new ideas and the world of digital opportunities – women, who are driven and passionate about things both in their business as well as private life. Our goal is to bring more women into the limelight as role models as well as bring up role models of the future.
Additional information:
Kristiina Lakio, puh. +358 40 500 2365, kristiina.lakio@lexia.fi